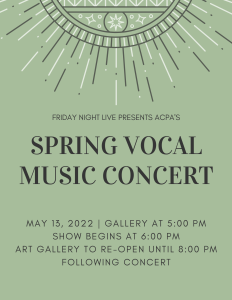 Join us this Friday at ACPA for an evening of new and classic music through the voices of our students! Visual art galleries will be held before and after the show from 5-6pm and 7-8 pm. Admission is free but donations to support our music program are always welcome!
Rigorous curriculum
Our academic programs are demand a commitment from our students. We believe in challenging our students with a robust college preparatory academic program that prepares our students for college.
Our students graduate feeling empowered and self-assured that they will succeed in their next endeavor.
Join our community. Start your enrollment process today.
Address
4401 Hilton Corporate Drive
Columbus, OH 43232
Phone & Fax
P: (614) 986-9974
F: (614) 986-9976
Email
contact@artcollegeprep.org